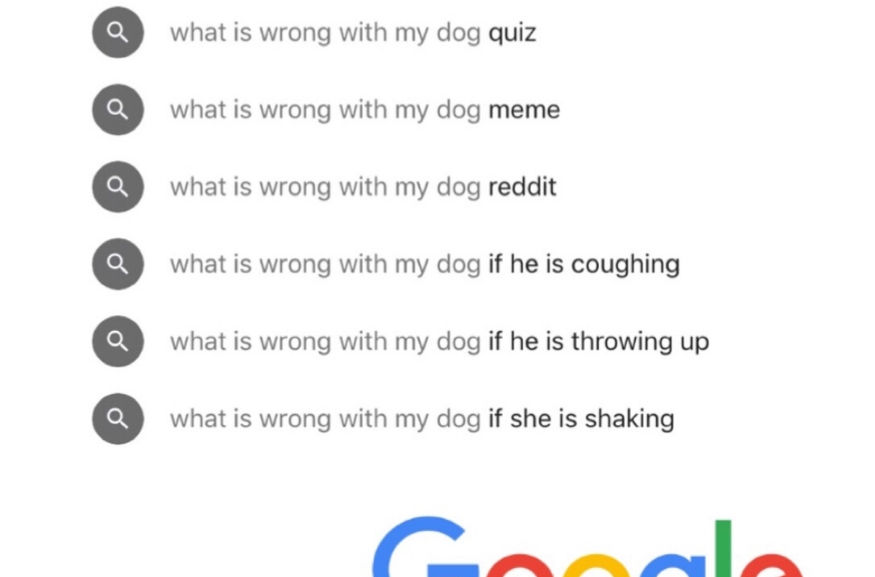 INTERNET  MEDICINE
The internet is a great tool that has revolutionized the world.  In veterinary medicine it's just that  much easier to share information with each other and our clients.  However, the internet can also be misleading and a source of incorrect information.  This article will look at the common ways pet owners use the internet when making medical decisions for their pets.
Making a diagnosis is much like putting together a puzzle and every piece counts!  History, symptoms, breed, age, current medications and diagnostic tests are all pieces that form the complete picture of the pet's health.  When using the internet, "Dr. Google" as we affectionately call it, pieces of the puzzle are missing.  This can lead owners to panic over a potential disease or focus on a disease that could already be ruled out.  During research if a disease reminds you of your pet's condition, mention it to your veterinarian.  If it has not already been ruled it out, they may offer treatment, or tests to aid in diagnosis.
Over the counter medication is another common internet search.  Prescribing medication is also like diagnosing, and an internet search may not tell you side effects of over the counter remedies or how they will interact with your pet's current medication.  When we were growing up it was not uncommon for us to give our dogs some Pepto-Bismol when they had loose stools.  We would call our dog savvy friends for a dose and that was that.  Now we are the dog savvy friends, and we always say no to Pepto!  Pepto has been reformulated to help with stomach cramps, so today's Pepto contains aspirin.  Aspirin can interact with pain medications and other medications such as steroids which increases the risk of side effects.
When researching on the internet, look for sources that are backed by research.  Some authors will state an opinion as if it is a fact, while others are so biased that they can completely omit information.  Look at the sources – articles written by veterinarians, published in peer review journals, websites from universities (.edu), government (.gov), or research organizations (.org).  These sources will be backed by scientific research and are similar to the guidelines used when writing college papers.  If the sites you find do not meet those requirements, it doesn't necessarily mean they are a bad source but keep in mind some sites present opinion based as fact, have incorrect or outdated information, or can be biased.
The internet can be a great tool in helping us make informed decisions for our pets.  We can research topics at our own pace, connect with others who have pets with similar illness, and share our stories so others may learn from our experiences.  But, keep in mind, for all the good the internet does, there is bad as well.
"Everyone is entitled to his own opinion, but not to his own facts."     ~ Daniel Patrick Moynihan
Veterinary General is located in Shelby Township, Michigan.  We offer traditional and alternative therapies such as Acupuncture, Chinese Herbals, and Cold Laser Therapy.  More information can be found at www.veterinarygeneral.com.