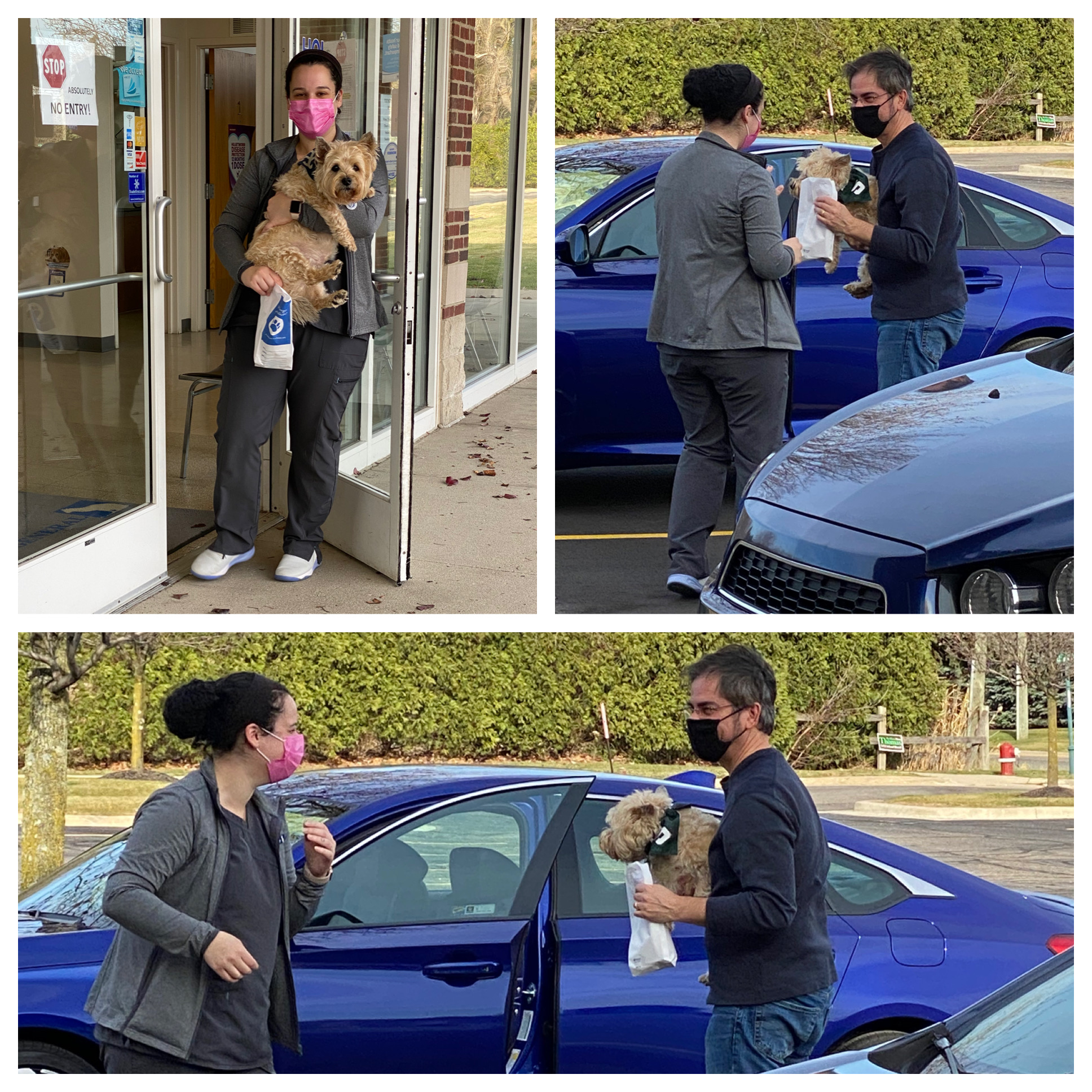 Not Business as Usual in 2020
As with everyone I talk to, I thought life would be back to normal / business as usual by now – actually, well before now. I'm not a fan of the term "the new normal" and I never will be, but now I'm beginning to wonder if things will ever be "old normal" again.
Like most businesses, the veterinary profession is being affected by Covid-19 and the constant changes in the way we can (and should) do business.  It's just not possible to social distance when you have multiple people performing treatments on a pet so it's necessary to wear masks and sanitize all day. We have a fairly small staff and we try to keep our circles tight. When a co-worker has to quarantine due to exposure, it puts a great deal of strain on the daily schedule. Additionally, staff with younger children have to reduce work hours due to on-line schooling. Because of staff shortages, it has become necessary to reduce our hours of operation.
We begin each day by taking our temperature and assessing our health.  Some of us choose our mask as carefully as we do our scrubs for the day. Speaking of masks, can I say that they certainly make communication a struggle?  Not just in person, but even more so on the telephone because they muffle our voice. With the need to speak louder, I go home each evening wondering if my throat is sore because of the mask or because I'm starting to get sick.
To keep our practice open and healthy, we have instituted curbside service. In this day of curbside food pickup and click-it grocery shopping, many of our clients like it – or at least don't mind it. On the other hand, for many pet owners, handing their best friend over to face the veterinarian alone can be a struggle. I have to say though, I'm pretty impressed with how well your pets have been getting along without their guardians by their side. At times, we rely heavily on our Adaptil bandanas and Feliway spray for our nervous patients.  A dab of peanut butter, cheese, or Churu treats will do the trick for others but with some tender love & care we can get things done pretty efficiently.
Of course, we experience other struggles each day. Perhaps that big dog just won't come inside or the client didn't realize she had to call upon arrival or the doctor tries to call the client and they aren't picking up the phone, etc. The latter is one of the problems that we frequently experience. Our phones are very busy and having five telephone lines, clients may not recognize the number we may be calling from. Then we have the client that thought he was supposed to drop his pet off.  This is probably one our most frustrating events because now we have a staff member pet sitting and unable to help with other services or bringing the next pet in for the doctor to see.
It's understandable that people are frustrated with all of the changes and implementations in the face of this pandemic. Just when we thought we were nearing the end, new restrictions and guidelines are passed on to us.  We are meant to socialize, gather, eat, and just hang out with our friends and families. Everyone needs a good hug now and then and even that's frowned upon right now. We are fortunate that as of today, our staff and immediate families have avoided Covid-19 infection. I'd like to think that's because of the precautions we are taking and we hope and pray that we can continue to stay Covid free. It feels as though, this time around, it's closer to home than ever.  Several area veterinary practices and Emergency Centers had to close temporarily due to Covid-19 outbreaks. I know the negative impact that has. Veterinarians are busier than ever. With just existing clients, our appointments are booked out over a week. Currently, we can't even consider taking new clients. We take several calls daily from frustrated pet owners because their vets are booked out even farther. So many pets needing veterinary attention and we just aren't able to see them all. This is not what we signed up for and it's not easy for us.
I'm not sure where the next several months will take us. I am concerned about our staff running outside all day as the weather turns cold, the snow and ice is under foot, and the temperature changes from the toasty warm clinic to freezing outdoors will affect the health of our staff. This will be yet another hurdle in the ever-changing business experiences with Covid-19.  I just ask that you continue to be patient with us and know that your babies are in good hands.
Thank you for your trust and confidence and have a safe and healthy holiday season.