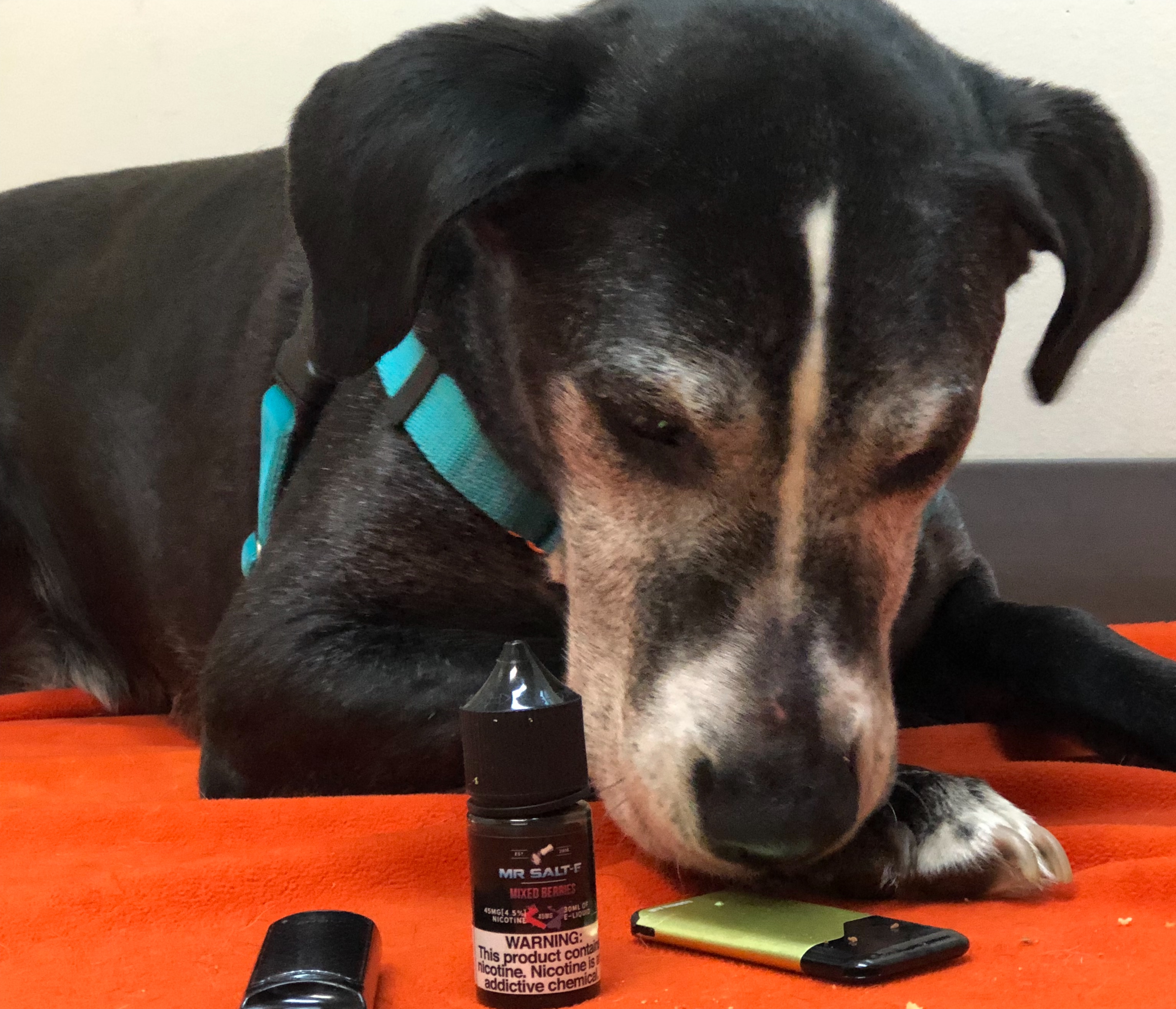 VAPING AND PETS
What is an e-cigarette?
E-Cigarettes are electronic (battery operated) cigarettes. They come in all shapes and sizes. They can look like cigarettes, pens, pipes – they can be slender enough to fit into a wallet. "Vapes" work with an atomizer heating liquid containing nicotine, turning it into a vapor that is then inhaled. It creates a vapor cloud that looks like cigarette smoke.
How is this dangerous for my pet?
Nicotine has always been toxic to pets. Cases of toxicity are reported from cigarettes, nicotine patches, and nicotine gum. E-cigarettes carry new concerns if ingested by your pet because the nicotine is generally more concentrated than traditional nicotine products and the liquid form causes faster absorption. Liquid nicotine can be absorbed through the skin or mucous membranes of the mouth in dogs, cats, and humans. This causes a faster onset of symptoms. Additionally, the carrier may be propylene glycol and glycerin but ASPCA Poison Control states there have been reported cases of products containing diethylene glycol which can cause damage to the kidneys.
Pet-proof your home
Keep all of your vape supplies out of reach of your pets. Do not refill or change cartridges while your pet is nearby and never charge your e-cigarette in an area accessible to your pets. Dogs and cats are attracted to certain smells and cats have an intolerance to propylene glycol which is sometimes a carrier used in vaping liquids.
Symptoms of Nicotine Toxicity
Pets can show signs of toxicity very quickly, generally within 15 to 60 minutes of ingestion. Symptoms may include excitation or increased heart rate, abnormal breathing, salivating, vomiting, diarrhea, or agitation. More severe symptoms can include tremors, seizures, cardiac arrest and death.
If You Suspect Liquid Nicotine Ingestions
It is important you seek medical care immediately due to the rapid onset of symptoms. This is vital to your pets health. Call your veterinarian or an emergency veterinarian immediately.